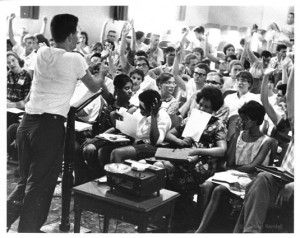 The Paul Robeson Freedom School is open to all Brooklyn youth, ages 10-14, and we hope to be able to keep the program free of charge for all our families. Can you help support us in one of the following ways?
Donate school supplies

Stay tuned for details. You can also call us at (347) 618-8675 or email donate AT paulrobesonfreedomschool DOT org
Donate non-perishable food

Drop off canned or packaged food to the school. Again, please let us know in advance!
Volunteer your time and talents

To become a volunteer teacher or helper in the school, call us or email join AT paulrobesonfreedomschool DOT org
We especially need: nurses, gardeners, field trip chaperones, secretaries, anyone with an interesting talent!
Your donations will be processed by our fiscal sponsor, The Occupy Solidarity Network. Checks can be made out to 'Occupy Solidarity Network' with Freedom School in the memo line.